GPS Spoofing
A Growing Problem for Uber
Published: 2017/06/09
Last Updated: 2017/06/09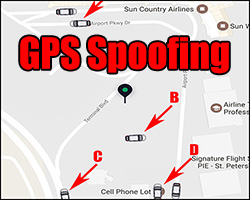 More and more, drivers are going to airports or other hot locations that have a FIFO Queue, only to find that there are seemingly dozens or even hundreds of drivers already there.
What many drivers don't realize is that some, or even most of those drivers are not in fact at that location, they are GPS Spoofing.

What this means is that they are tricking the ridesharing platform, be it Uber, Lyft or any of the others, into thinking that their car is somewhere it is not.


Gaming the System
Here's how drivers are gaming the system. Note that I have never actually done this myself. But after talking to and reading about many drivers in addition to my own observations, this is the information I can pass onto you.

First, they spoof their GPS location to an airport and log into Uber, this gets them into the queue effectively starting the timer on when they'll get an airport run. Airport runs tend to be long and profitable.

Next, they log into a separate account on a second phone. This may be on a separate platform such as Lyft.

Now they can accept trips and make money, while at the same time they're in line at the airport instead of having to sit in a parking lot waiting.

They make their way to the airport before they become next in line, usually with a 20 to 30 minute buffer to insure they don't miss their spot.

Once there, they disable their GPS Spoofer on the first phone and take their airport run.

At some point they spoof their GPS location on the second phone to the airport so they can do it all over again. They can repeat this for as long as they like.



How can you tell?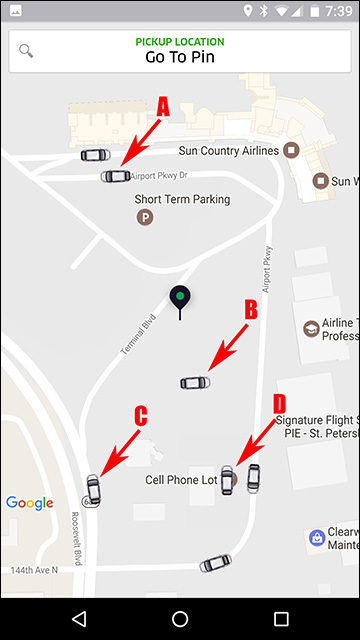 Here is an example of what this looks like to Uber's system. This is a screenshot I took of St. Pete/Clearwater Airport a.k.a. PIE, using the (old) Rider App which you can download from this site.
Note that I didn't need to wait for the stars to align to get this example. I simply opened the Rider App, panned to the local airport and there it was. That should give you an idea of how common this has become.

So lets take a look at these cars..

A) This car appears to be located in the short term paid parking lot which also requires you to pass through a gate to exit. It makes no sense for an actual driver to park there when they can park for free in the cell phone lot and still be in queue. This car is most likely miles away.

B) This car appears to be in the employee parking lot within a gated fence. I doubt an employee is actually sitting there for hours during peak airport traffic (this was at 7:39PM).

C) This is the exit ramp to the airport from a major highway. There is absolutely no way a car has been parked there for hours, especially when the cell lot is around the corner.

D) This driver had the right idea but what they didn't realize is that legit cars are always shown on the nearest road. This is another reason why B isn't actually there. If it was a legit car it would appear on Airport Pkwy.

As for the rest of the cars? There's no telling. I've been parked at arrivals with no cars physically in front of me and seen them on the map so it is possible that the top car may be spoofing. I would guess the other two are legit. Either way, in this instance there are definitely more fake cars than real ones!



Conclusion
I understand that after reading that you may think that GPS Spoofing is a great idea and exactly what you should do to gain an edge. Just understand that Uber and other rideshare companies may deactivate you if you're caught doing this. Also understand that many markets are oversaturated with drivers as it is. If every car is effectively covering two locations, that makes the problem even worse for everybody.